Massage therapy Amsterdam (center, near Dam square)
with Mirjam van Huis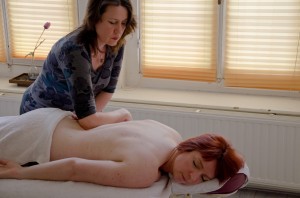 Massage therapy is appropriate for treating a wide range of symptoms, such as neck and shoulder tension, lower backache, leg, feet and hip problems, RSI, breathing and/or voice difficulties, menopausal problems, fatique, lack of sleep, intestinal problems, as well as physical, mental and emotional stress, or burn-out. A treatment to support you during pregnancy is available. Or a massage treatment to provide better understanding of your body & mind. And of course a massage can be taken just to relax.
In my work I mainly use Deep Tissue massage, Trigger point massage and Swedish massage. I combine this deep way of massaging with more energetic oriented techniques as Intuitive massage and Polarity therapy. I may also use Joint movement, Foot Reflex massage, and techniques derived from Chinese Pressure Point Massage (Tuina) massage. And when it is helpful, I offer instruction in exercises based on Bio-energetics, Chi Kung, and Stretching. To work with your blockages a breathing session or bodywork session in combination with massage techniques is available.
Mirjam van Huis studied Psychology (cognitive science) and Philosophy at the University of Amsterdam. She finished the Academy for Massage and Movement in 2001 and still attends various deep tissue massage and bodywork workshops yearly. Mirjam gives massage courses and taiji or qigong courses (in Dutch). And Mirjam is a classical acupuncturist.
My approach to treatment is holistic. I design a treatment program with the client that takes into consideration their physical, mental, emotional and energetic needs. And any possible emotional reactions from treatment will be dealt with carefully and attentively.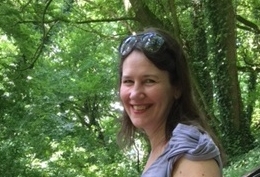 'Hi! As I come from an expat family, I can tune in fully on all your expat issues ;). My family is living in Indonesia, Africa, and used to live in South America. I myself grew up on Java, Indonesia. Warm regards, Mirjam.
Reviews:
Marc: 'I recommend Mirjam and Smooth Relief for massage therapy in Amsterdam. I have been a regular client for 1 year. Mirjam is focused on making you feel comfortable and she has a fabulous reflexology technique. You get the feeling that she cares about her client's health. She'll ask about your trouble spots and then focus on those areas. Very professional and conveniently located right on Leidsestraat. Dutch and English is spoken. I always feel refreshed and healthier after a session.'
(Note: Mirjams practice has moved to Rokin near Dam Square – also very central)
Mary: 'The regular treatments with classical massage therapy, triggerpoints and acupressure ease the chronic pain that is cause by complications following a traffic accident. Mirjam has been monitoring my physical complaints since 22 years with professional and personal care and treatment and she adapts the treatment where necessary.
The treatments ease the pain and disfunction of my arms and legs. My serious complaints are in good and trusted hands when Mirjam treats me and I always look forward to our next meeting.'
Acupuncture
with Mirjam van Huis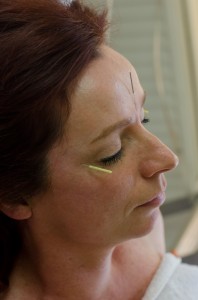 Acupuncture is appropriate for treating a wide range of symptoms. Mirjam van Huis thesis was about 'Diagnostics in treating headache and migraine with Traditional Chinese Medicine (TCM)' and this subject has her interest. Besides that, Mirjam treats both women and men for fertility problems and supports them with acupuncture in having a baby, through the natural way as well as with IVF or IUI. Acupuncture alleviates menstrual problems, PMS, menopause problems, intestinal problems/ Irritable Bowel Syndrome (IBS), stomache ache, insomnia, burn-out , stress, panic or fear, depression, overexcitement / over thinking, worry, grief / sadness, as well as chronic pain problems, Chronic Fatique Syndrome (CFS) or Fibromyalgia. It may help with a wide range of complaints of the muscaloskeletal system: frozen shoulder, tennis elbow, bursitis, RSI or CANS, neck and shoulder pain, lower back ache, SI problems, pain in the joints, osteo- or rheumatoid arthritis, knee, ankle or feet problems.
As Mirjam van Huis is also a massage therapist, a combination treatment of acupuncture + massage therapy is possible.
Mirjam sets needles carefully and gently and she will always communicate with you if you are all right with the needles.
You can ask her for a supplementary diet advice derived from Traditional Chinese Medicine.
Mirjam van Huis studied Psychology and Philosophy at the University of Amsterdam, she attended the Academy for Massage & Movement for four years and she graduated cum laude from Shenzhou Open University of TCM (Traditional Chinese Medicine) in Amsterdam. She has her practice since 2001.
Consultations


Fees
First acupuncture treatment with intake: 75 minutes – € 108
Follow up treatments: 60 minutes acupuncture: € 90

Acupuncture discount offer (for acupuncture only and on a weekly basis) :
After a first treatment of 75 minutes per session, including intake conversation, it is possible to apply for 6 x 45 minutes treatment sessions on a weekly basis. (Total: 7 times) Fee for 45 minutes session: €78. 
75 minutes massage therapy: € 108, or acupuncture with a 10 minutes massage
100 minutes massage therapy: € 128, or a massage and acupuncture with  a 25 minutes massage
Time table
Tuesday 2.00 – 8.00 pm
Friday 10.45 am – 2.45 pm
Saturday 11.00 am – 4.00 pm
The practice address
Rokin 91 achter, Amsterdam
Entrance: Kalfsvelsteeg (alley)
The entrance is at the end of the alley on the right side of the building, the second door at your left.
How to get there
Metro M52 (North-South line) has a stop in front of the building (stop: Rokin, exit: Spui) and is 1 stop from Amsterdam Central Station. Trams 4, 14,  24 stop in front a the building at tram stop: Spui (on Rokin road) and is two stops from Amsterdam Central Station and 1 stop from Dam Square.
There is an Parking Garage close by at Rokin and underneath Bijenkorf on Dam Square.
Dam square is a 5-minute walk or one stop by tram.
Insurance
Several insurance companies compensate (partly). If you have the full package ('Aanvullend'). You don't need a doctor's referral. I'm a member of the LVNT (for: Massage therapy) and Zhong (for: Acupuncture)

If you want to cancel, please do it more than 24 hours in advance, otherwise the whole treatment will be charged.
Appointment? More information?
Please provide your personal info for contact or appointment with Mirjam van Huis:
E-mail or call Mirjam

info@smoothrelief.com
' The best way to reach me is by e-mail'.
06-15630276